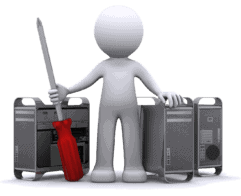 Computer Repairs
Your computer is misbehaving and you are looking for someone to undertake computer repairs for you, right?  Maybe it's making some funny noises or clicking sounds.  Or maybe sometimes when you switch it ON and it just sits there and looks at you like a stunned mullet and doesn't boot up!  Or your computer makes strange beeping noises?
This can be really annoying, especially if it doesn't happen all the time. You never really know if it's going to re-occur or if the computer is going to die completely and you're going to lose all your data.
Don't Risk It!!!
Spotty Dog Computer Services Morayfield can fix your computer for you.  And we will explain the problem in plain English.  Which means you will understand exactly what needs to be done and why.
Depending on the problem, we may be able to repair your PC utilising our mobile computer repair services at your premises while you wait!
We know how hard it is to find someone you can trust to carry out competent computer repairs.  That's why we strive to ensure your computer repair experience is one with no stress.  And we will provide a computer repair service that you will recommend to your friends and family.